About Us
Amber Sound 107.2FM launched full time in October 2008.

The station was the culmination of 15 years of activity in the Amber Valley from three radio groups, Valley Radio, Amber Sound FM and Amber FM, which merged into the station you are listening to today.

Until now Amber Valley was under served by the major city stations and was in need of it's own identity. A really local station was needed to fill the gap and provide some real local programming by local people.

Amber Sound 107.2 is that station and now broadcasts 24 hours a day to the area.

Predominantly music based we offer an alternative to the independent stations with a music selection stretching over 60 years and radio presenters that are allowed to put out their personality on air, something that seems to be lacking in today's 'jukebox' radio approach.

Whilst the local ITV franchise have dropped it's localness once again coming from Birmingham and many large radio stations being networked across the country we have increased our local coverage of news and events, making sure that local people remain in touch with their identity and area's activities and news.

We are a voluntary organisation meaning everyone you hear on the station presenting, producing or working in the background on music editing etc work for free, for the love of radio and for the love of the local area. Their commitment is paid back in spades by the local listeners who once on board tend to stick to the station.

The station prides itself on listener interaction and invites contact by text, email, phone and chatbox at all hours of the day. Much of the time we are a request or dedication station and our listeners certainly take advantage of this. On a daily basis we invite opinion from our listeners on both a local level and national matters of interest too.

We are also committed to the training of our volunteers into the radio stars of tomorrow. Many of those involved with us have already gone on to full time positions within the radio industry and we continue to produce high caliber radio professionals.

We are a 'not-for-profit' organisation which relies on advertising sales, national and local grants and donations. We are supported by the National Lottery, Government Grassroots grants, The Local Network Fund, Local and county councils and individuals too.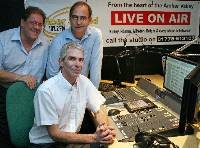 Chris, Glyn & Eddie pre-launch